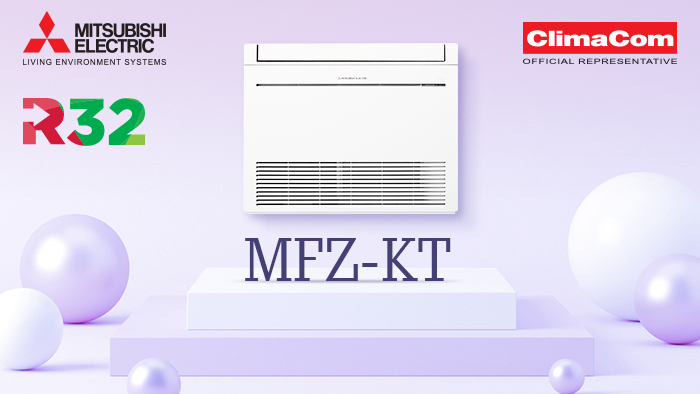 10.08.2020
Mitsubishi Electric's MFZ-KT series floor units now with R32
Mitsubishi Electric's MFZ-KT series has an impressive design and offers exceptional comfort.
The MFZ-KT is the perfect environmental solution, as it uses R32 refrigerant, which complies with European directives to reduce the greenhouse effect and increase efficiency.
Three possible installation types: standing, mounted, wall-hanging.
Advantages in cooling mode:
MFZ-KT directs cold air only to the upper part of the room.
As the cold air is heavier, it descends and mixes with the warm air, providing efficient cooling without abrupt change, reminiscent of a light breeze.
Advantages in heating mode:
Faster heating in heating mode.
Simultaneous distribution of heat flow in both directions: up and down.
Consistent temperature throughout the room.
As the unit blows a proportion of the air downwards in order to heat it again, the room is heated even faster.
The Multi Vane Flow function ensures that the airflow moves up and down. Optimal air distribution is achieved with the help of a uniquely shaped triple vane, designed especially for better airflow control.