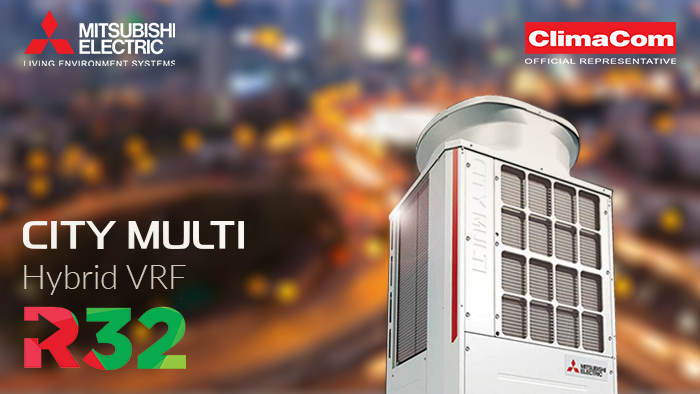 11.12.2018
City Multi Hybrid VRF system now with R32
As the world's first 2-pipe system to provide simultaneous cooling and heating with heat recovery, the City Multi Hybrid VRF combines the benefits of direct evaporation systems and chilled water systems.

The unique Hybrid VRF systems from Mitsubishi Electric will soon be available in both R2-series and Y-series versions. While each unit uses a combination of refrigerant and water as the energy carrier, only a very small amount of refrigerant actually flows inside the building. Heating and cooling is primarily transferred via water and subsequently directed to the indoor units. An additional benefit is that copper pipes are replaced by their plastic equivalents, which are both more cost-effective and easier to process. This also eliminates the need for the cooling leak tests on the indoor units as required by the F-gas regulation.

Hybrid VRF systems stand out on account of their high energy efficiency, customised comfort in each individual room and low planning, maintenance and assembly workload. Requiring only a reduced refrigerant charge quantity, they are ideally prepared for taking on even greater demands in the future. A true evolution uniting the best of both worlds.