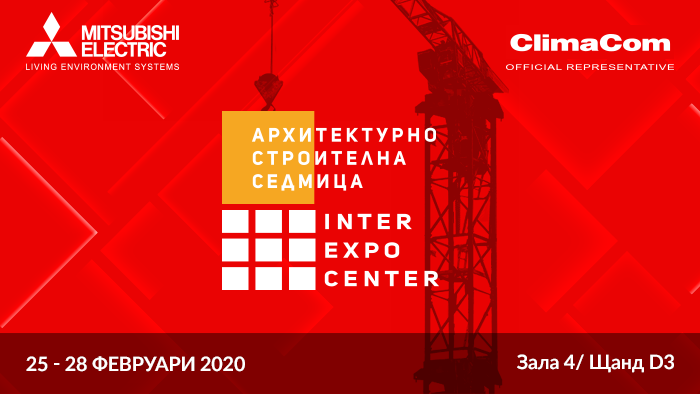 10.02.2020
ClimaCom with participation in Architectural – Building Week 2020
ClimaCom will take part in this year's international edition of Architectural - Building Week. The exhibition will be held in the period 25 - 28/02/2020. at the Inter Expo Center, Sofia.
Welcome to Hall: 4, Booth: D 3, where we will present the following products:
Home Air Conditioners
Air conditioning for offices and public buildings
Air - to - Water Heat pumps (Ecodan) for heating, cooling and domestic hot water
Systems for central air-conditioning City Multi - ideal for large office buildings, hotels, trade centers or hospitals that require customized climate solutions
Lossnay - complete heat exchange ventilation
The focus of the exhibitors of the Architectural - Building Week will again be the potential of modern construction equipment and design, technology and tools, finishing, interior materials and technologies, modern vertical planning and landscape, and industrial construction, virtual reality in favor of construction.
Within the framework of the Architectural - Building Week, the most important issues for the construction industry are discussed and innovative products, services and technologies are demonstrated. That is why the exhibition brings together developers and contractors, architects and designers, merchants and distributors of materials and equipment, investors, construction experts.